The 2021 Subaru Love Promise Community Commitment Award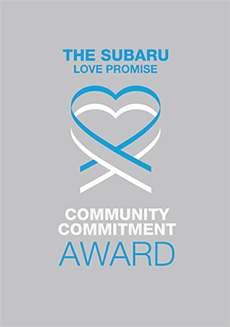 We've been nationally recognized for our dedication to our community and the Subaru Love Promise.
We're honored to receive the 2021 Subaru Love Promise Community Commitment Award. This award nationally recognizes Subaru retailers who are making the world a better place while demonstrating an outstanding commitment to supporting passions and causes in local communities. These efforts are focused in important areas such as the environment, community, health, education, and pets.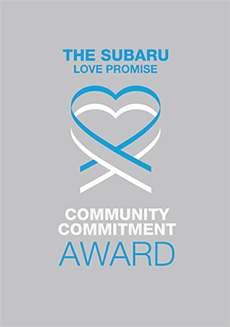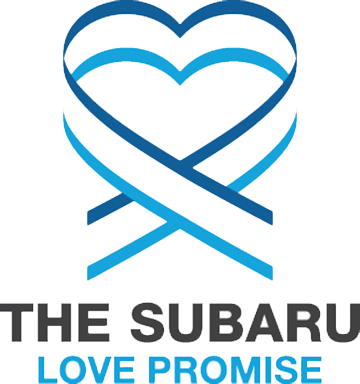 What is the Subaru Love Promise?
Subaru and our retailers believe in making the world a better place and the Subaru Love Promise is our vision of respecting all people. This is our commitment to show love and respect to our customers and to work to make a positive impact in the world.
How is Treasure Valley Subaru dedicated locally to the Love Promise?
Team Subaru of Nampa is committed to helping the community within our area of responsibility and beyond.
Canyon County Humane Society
Advocates Against Family Violence, Lighthouse Rescue Mission
Love Promise Stories from Treasure Valley Subaru
Subaru and Treasure Valley Subaru believe in making a positive impact on the communities in which we live and work. We uphold that belief through our Love Promise Community Commitment. Every month, we select inspiring stories from customers and partners from around our area who strive to support our collective commitment and feature them here
Saint Vincent de Paul Car Raffle - Tina C
Libby has always been a big supporter of the church and what they do. She has seen the Saint Vincent de Paul organization have a positive impact in so many peoples lives. One day after mass she decided to help out and purchase a single ticket. Not thinking she would have a chance at winning she did not attend the banquet. Little did she know she had won. After being contacted she came in to take delivery of her beautiful Plazma Yellow Crosstrek. Congrats Libby!!
---
Summerfest2021 Car Raffle - Tina C
Every year St Vincent de Paul of Southwest Idaho has organized a raffle to help cover the expenses of annual operation. Treasure Valley Subaru had the pleasure of assisting with 2 vehicles this year. One of the winners has an amazing tale. Claire Little had just graduated from a high school and went to Sunday mass with her family. After hearing about the raffle she decided to use some of her graduation money to purchase a single ticket. Weeks went by and she continually told her family that she was going to win. The day of the raffle her family was unable to attend. None of the family were watching the live stream as they were preparing everything for her journey to start college at Baylor university in Texas. Then it happened. Her parents received a phone call from a friend who was at the raffle event. Tons of excitement and a few phone calls later she found out she had indeed won a Subaru Forester. Ralph May from St Vincent reached out to the dealership to set up a full experience delivery for Claire. Upon arrival the fact she had won still did not seem real. After educating her on the car, showing her how to use every feature and explaining maintenance the time had come. She was handed the keys to HER Forester and told it was time to put some miles on it. The smile never left her face, in fact I think its still there. The next morning she left to start her first year in her training as a nurse! Congrats Claire, and we all wish you the best as you start the next chapter of your education!
---
Adopt A Classroom - Tina C
Treasure Valley Subaru Partnered with Adopt A Classroom to provide students and schools in need with some resources to learn and grow and teach in the classroom with this help we can help over 114,000 students nationwide and classrooms 4,700. This year we choose Sacajawea Elementary to help with supplies for learning. Treasure Valley Subaru is helping make a difference in the classroom with 150 students
---
Kuna youth Baseball team - Tina C
Treasure Valley sponsored A baseball team to help support the youth to give them a good start in sports.
---
Alzheimer's night - Tina C
Treasure Valley Subaru teamed up with Alzheimer's association and horsemen's football To raise money to help support the Alzheimer's association We are excited to be part of this organization And help out with the wonderful cause
---
Fill the Subaru - Tina C
Treasure Valley Subaru teamed up with Humane Society to fill the Subaru Outback to help with the animals to feed them and help with bedding for the little ones and get them toys to play with during their stay. We reached out to the local community for help.
---
Teachers Appreciation - Tina C
Treasure Valley Subaru partnered with Cap Ed for the Teachers Appreciation to do a golf ball drop. Rob Studebaker went up in a hot air balloon to drop the golf balls to give one person a new car from Treasure Valley Subaru.
---
Rick, Carly, and The Idaho Humane Society - Ashlee W
Treasure Valley Subaru partnered up with the Idaho Humane Society and Rick and Carly from 96.1 BOB FM to get 96 pets adopted in 96 hours! During the 96 hours, Rick and Carly lived in Treasure Valley Subaru on top of a new Ascent! In this time, Idaho Humane Society had a total of 97 pets adopted! 45 cats, 42 dogs, 4 birds, 3 rabbits, and 3 rats found their forever homes within three days!
---
Guardian Paws Check Donation - Tina D
Guardian Paws Service Dogs, GPSD, cannot express our gratitude to the Treasure Valley Subaru team. All of the hard work, dedication and support that Guardian Paws Service Dogs has received from the Treasure Valley Subaru team is unmatched. Guardian Paws mission is to advocate and educate for a Veteran's right to use a service dog to regain independence. The donation of almost $24,000 will help us continue our mission by serving Veterans and their service dogs throughout Idaho. Guardian Paws has served 41 teams (Veterans and a service dog) to date, and continue to reach out to Veterans in need. Many Veterans will spend their last $5 to take care of their dog, before they will take care of their own needs. This donation will allow us to provide veterinary care for the service dogs. We will be able to purchase food and needed supplies for the dogs, as well as adoption fees. By taking care of the service dogs, the Veterans will have the ability to focus on their healing process. Thank you for your support and helping us "Save Veterans One Dog At A Time".
---
Random Acts of Kindness Day - Ashlee W
On February 17th, Treasure Valley Subaru gave away a Subaru Swag gift basket for Random Acts of Kindness Day! Random Acts of Kindness Day was first created in Denver, Colorado in 1995 by a small nonprofit organization, the Random Acts of Kindness Foundation. The idea behind this holiday is to make the world a bit better, even if it is just for a day. The gift basket included t-shirts, water bottles, a few notepads with pens, and several other items. Lucky winner, Sean, was chosen at random through social media! Sean loves Subarus and even has one of his own! He has a beautiful 50th Anniversary 2018 Heritage Blue STI! He isn't the only one in his family that likes Subarus, his kids also like them. He said that he probably wouldn't get anything from the basket but the actual basket! Congratulations Sean!
---