The 2021 Subaru Love Promise Community Commitment Award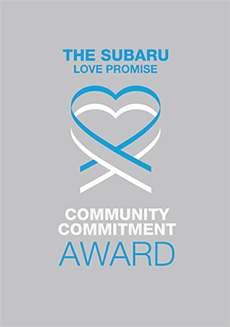 We've been nationally recognized for our dedication to our community and the Subaru Love Promise.
We're honored to receive the 2021 Subaru Love Promise Community Commitment Award. This award nationally recognizes Subaru retailers who are making the world a better place while demonstrating an outstanding commitment to supporting passions and causes in local communities. These efforts are focused in important areas such as the environment, community, health, education, and pets.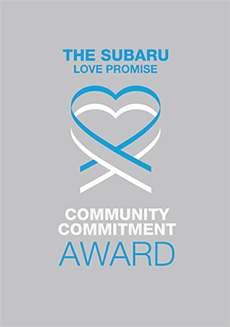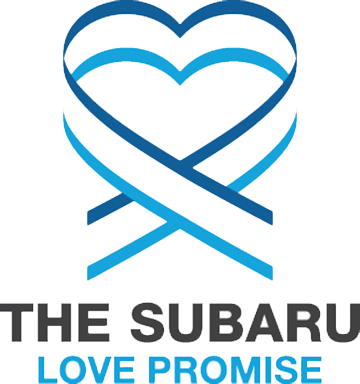 What is the Subaru Love Promise?
Subaru and our retailers believe in making the world a better place and the Subaru Love Promise is our vision of respecting all people. This is our commitment to show love and respect to our customers and to work to make a positive impact in the world.
How is Treasure Valley Subaru dedicated locally to the Love Promise?
Treasure Valley Subaru is committed to helping the community.
Idaho Humane Society, Guardian Paws
Boise Rescue Mission, Salvation Army
Love Promise Stories from Treasure Valley Subaru
Subaru and Treasure Valley Subaru believe in making a positive impact on the communities in which we live and work. We uphold that belief through our Love Promise Community Commitment. Every month, we select inspiring stories from customers and partners from around our area who strive to support our collective commitment and feature them here
Missions Miller Turkey Drop - Tina C
As part of the Subaru Loves to Help campaign, Treasure Valley Subaru joined forces with local radio host Kevin Miller to help supply the Boise Rescue Mission with much needed items. Our amazing staff filled 9 carts with turkeys, coffee, snacks, all the Thanksgiving trimmings, and even socks and diapers. We are committed to helping our community and the organizations that support them. Our ongoing partnership with Kevin Miller, the Boise Rescue Mission and other will continue to grow stronger and help many more people throughout the Treasure Valley.
---
Georgia - A New Chance - Kendall S
This little pup was found shivering in the rain, clearly injured, and needing medical assistance. A Good Samaritan brought him to an emergency clinic, where Humane Officers were called to pick up and provide medical care as he was a stray pet without identified owners. Humane Officers arrived quickly and brought him back to our veterinary team for urgent care. The next day, the puppy's grateful owner came forward and relayed that their puppy had been lost and on his own for a week. We are unsure how the dog had broken its jaw, but knew that the road would be long towards recovery because of the decay that had set in. Later that day, the owner made the hard decision to surrender him to our shelter, unable to provide the long-term medical care and the support needed for recovery. This puppy is just one of the many animals getting new chances at life thanks to supporters like you. This October, Treasure Valley Subaru is proud to be one of those sponsors, providing $100 for every pet adopted at our shelter through the #SubaruLovesPets initiative, up to $3100. We are grateful to give these second chances at our shelter thanks to adopters, donors, volunteers, and supporters! #SubaruLovesPets #SubaruLoves
---
Alzheimer's - Tina C
Treasure Valley helped with the walk to end Alzheimer's we work closely with them to help any way we can
---
Blanket Donations - Tina C
Treasure Valley Subaru had the pleasure of donating blankets to the salvation army in Nampa to help with homeless in the cold weather during this trying times we learned a lot thru the staff showing us around and telling us it just isn't a homeless shelter they help with food and housing and they can live there also for a certain amount of time they help with getting them housing and back on their feet and with utilities they really appreciated all the help we gave them
---
Saint Vincent de Paul Car Raffle - Tina C
Libby has always been a big supporter of the church and what they do. She has seen the Saint Vincent de Paul organization have a positive impact in so many peoples lives. One day after mass she decided to help out and purchase a single ticket. Not thinking she would have a chance at winning she did not attend the banquet. Little did she know she had won. After being contacted she came in to take delivery of her beautiful Plazma Yellow Crosstrek. Congrats Libby!!
---
Summerfest2021 Car Raffle - Tina C
Every year St Vincent de Paul of Southwest Idaho has organized a raffle to help cover the expenses of annual operation. Treasure Valley Subaru had the pleasure of assisting with 2 vehicles this year. One of the winners has an amazing tale. Claire Little had just graduated from a high school and went to Sunday mass with her family. After hearing about the raffle she decided to use some of her graduation money to purchase a single ticket. Weeks went by and she continually told her family that she was going to win. The day of the raffle her family was unable to attend. None of the family were watching the live stream as they were preparing everything for her journey to start college at Baylor university in Texas. Then it happened. Her parents received a phone call from a friend who was at the raffle event. Tons of excitement and a few phone calls later she found out she had indeed won a Subaru Forester. Ralph May from St Vincent reached out to the dealership to set up a full experience delivery for Claire. Upon arrival the fact she had won still did not seem real. After educating her on the car, showing her how to use every feature and explaining maintenance the time had come. She was handed the keys to HER Forester and told it was time to put some miles on it. The smile never left her face, in fact I think its still there. The next morning she left to start her first year in her training as a nurse! Congrats Claire, and we all wish you the best as you start the next chapter of your education!
---
Adopt A Classroom - Tina C
Treasure Valley Subaru Partnered with Adopt A Classroom to provide students and schools in need with some resources to learn and grow and teach in the classroom with this help we can help over 114,000 students nationwide and classrooms 4,700. This year we choose Sacajawea Elementary to help with supplies for learning. Treasure Valley Subaru is helping make a difference in the classroom with 150 students
---
Kuna youth Baseball team - Tina C
Treasure Valley sponsored A baseball team to help support the youth to give them a good start in sports.
---
Alzheimer's night - Tina C
Treasure Valley Subaru teamed up with Alzheimer's association and horsemen's football To raise money to help support the Alzheimer's association We are excited to be part of this organization And help out with the wonderful cause
---